TO VEIL OR NOT TO VEIL
, that is the question!
Let's talk about why brides wear wedding veils on their big day and if you are wondering whether you should, then this may help to consider whether you want to wear a wedding veil on your special day. So, first up, let's delve into the history of the veil and why this particular bridal accessory is still popular today.
The wedding veil is one of the oldest parts of a bridal ensemble.  It dates as far back to Greek and Roman times with most experts agreeing that you can trace its roots back to Rome.  This was where a bride used to walk down the aisle with a wedding veil over her face in order to hide from evil spirits who might want to thwart her happiness or to frighten spirits away.  Or another theory it has been said is that by wrapping her from head to toe, the look represented one of a modest and untouched maiden.  So, with this tradition being carried through to the present day (whilst other bridal trends have come and gone), the wedding veil remains a must have accessory for many brides for many different reasons.
When it comes to unveiling the bride, there are no real rules although tradition suggests that it is the father of the bride (or the person who walks the bride down the aisle) who lifts the veil, right as the bride arrives next to her groom at the 'altar' and just before the couple starts to take their vows.  
Alternatively, as in more modern times, the groom may lift the veil at the moment before the first marriage kiss is exchanged.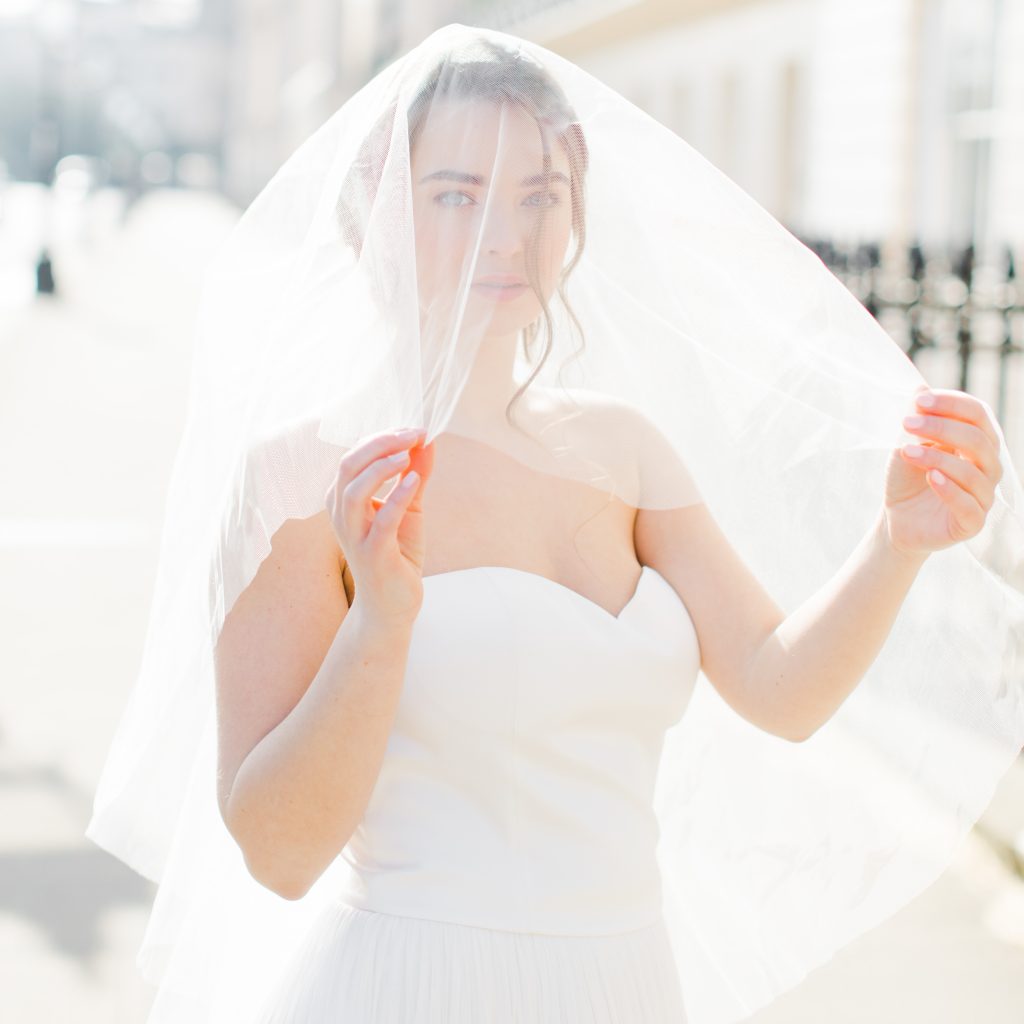 Now, whether you are a traditional bride or love a more modern look, there is a wedding veil for everyone and they really can add that all important finishing touch and transform your bridal look.
Your wedding veil, like your bridal headpiece and/or jewellery, should complement and enhance your overall bridal look, so if  you have chosen a wedding dress that is oozing embellishment and detail, then a paired back, simple wedding veil could be the perfect accompaniment.  However, if you have chosen a more simple, timeless gown, with very little detailing, then why not add a touch of extravagance with your veil and choose 3d florals, lace or even some sparkles and let your personality shine through.
So, whether you are having a bohemian wedding under the stars or an elegant affair in a stately home, wedding veils can adapt to any type of wedding and with such a vast array to choose from, there should be something that makes you feel like the most amazing version of you and that really epitomises those bridal feels.   
Here's a few beautiful images of some of the bridal veils available…
With a plethora of stunning wedding veils available to give you all the bridal feels, it is one bridal accessory that should be a strong consideration.  Even if you are adamant it's not for you, I urge you just to try one on.  You'll never get this opportunity again and if it's not for you, at least you can say you tried.
And ultimately, if you do choose to wear a wedding veil on your wedding day, whether that be for traditional reasons or simply because you are a style conscious bride, the most important thing to remember is how it makes you feel.
If you need any help or style advice in choosing to wear a veil and what might work with your bridal gown, please drop me an email on [email protected] and I'll be only to happy to help.
Rachel xx