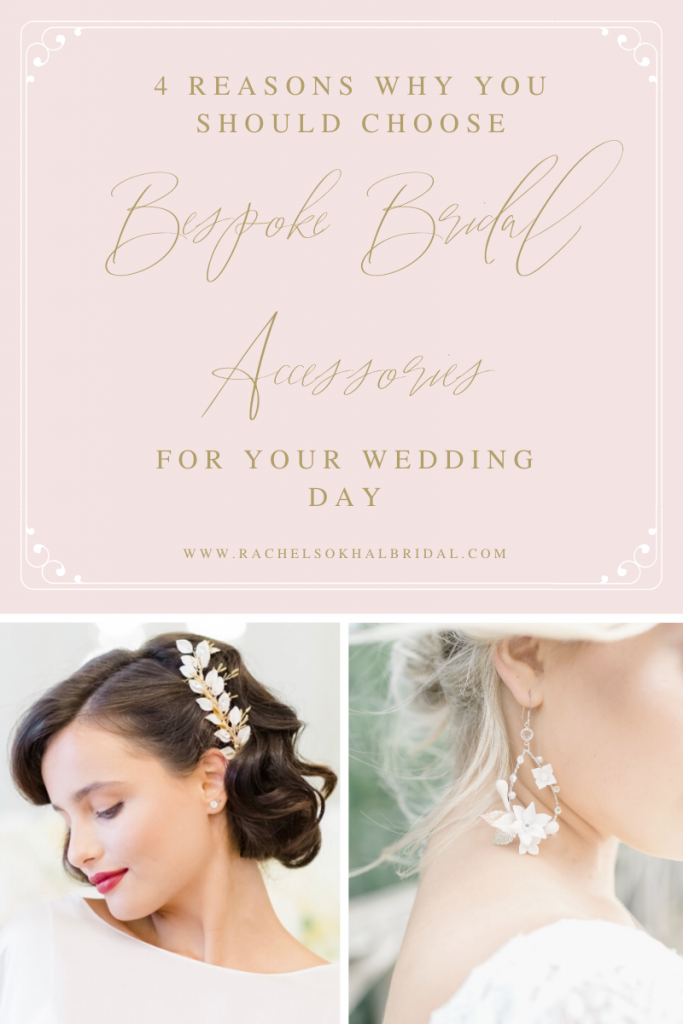 Why choose bespoke bridal accessories for your wedding day? I'm here to help you understand why bespoke bridal accessories can really elevate your overall bridal look in so many ways.
It's the one day that you want to be utterly magical, the most special day of your life so far. Surrounded by all those that you love and whose eyes will be on you. With the spotlight on you, you want to be sure that you are the most beautiful and radiant version of yourself. A time to truly showcase your beauty, personality and uniqueness. Leave your guests mesmerised as you make your way down the aisle. Choosing to adorn the right accessories can really be key to capturing all the above and more.
It's important to consider your accessories as carefully as you did your bridal gown. Just think about how much time and thought went into selecting what style of dress you wanted, everything from fit to style, possibly even what designers you loved and where you could try their gowns. In order to elevate your gown and therefore your overall bridal look, your accessories should be sought after with the same level of consideration to truly exude perfection.
So, now you've found the gown, let's hear the 4 reasons why you should choose bespoke bridal accessories on your wedding day…
You want your personality and your style to enthral your loved ones on your wedding day.  You want to radiate everything that is good about you.  You can really embody these traits by carefully selecting bespoke bridal accessories.  Choosing accessories that you love allows your personality to shine through.  Selecting elements that co-ordinate beautifully with your gown will really help to personalise and elevate your bridal look, particularly if your wedding dress allows for a bridal belt.  Bespoke bridal accessories showcase your own style and can effortlessly portray this to everyone.
A significant and heartfelt choice for having bespoke bridal accessories could be to incorporate something of sentimental value.  Many brides-to-be come to me with their mother's jewellery or grandmother's pearls and ask for them to be used within the design of an accessory that I'm creating for them.  This is such a privilege and of course means there is nothing more personal to have and wear on your wedding day.  If you want to have a special person near to you who is no longer with us, this is an incredibly touching and personal way to do this.
I also have requests to design and create headpieces or jewellery that mirrors the shape/colour/design of an engagement ring, a piece of jewellery that has been inherited and even a grandmother's tiara.  Nothing is impossible and having the possibility to own something so personal, which is not only beautiful but functional too, is a truly treasured extravagance.
This is an element of bespoke bridal accessories that should not be underestimated.  Just as you need to feel comfortable in your dress all day, the same must be said for your accessories.  Everything from your shoe choice to your headpiece, it's incredibly important that you don't realise you're wearing them.  You don't want to be removing them half way through your wedding day because they are uncomfortable.  You should be able to wear your accessories for the entire day and in some cases, beyond!
Let's talk headpieces first. Most handmade bridal hair accessories have been made entirely from scratch with wire.  This means that they are completely lightweight, not bulky and can be gently moulded into your hairstyle with ease.  This is not normally the case with a mass produced, manufactured piece which has the total opposite effect.  With particular reference to my own headbands, I can guarantee that you will not know you are wearing it because all my bands are handmade.  They will not dig into your pressure points behind the ears and therefore you will not suffer from a headache or want to remove it halfway through the day.
Is there anything worse than uncomfortable shoes?!  I always find it so sad when you see ladies at a prestigious event, impeccably dressed, only for them to have tossed their shoes to one side because they can't dance/walk in them any longer.  Your wedding day shouldn't be the day that you have to do that!  And you don't have to, but let me explain why…
Footwear should be beautiful but moreover comfortable.  My bridal shoe accessory service ticks both these boxes.  Firstly, ensure your comfort, by purchasing your own beautiful nude heels or a pair of shoes, to the colour and heel of your choice.  Once you've chosen your dream pair of shoes, you can allow me to adorn them with beautiful accessories that will also co-ordinate with your wedding dress and other bridal accessories perfectly. There are two choices of design: one is an embellishment which is permanently fixed to your shoe and can be placed on the heel, front or any strap; the second is a clip which would attach to the front of your shoe and of course may be removed.  You may wear these shoes time and again, long after your wedding day, enabling you to relive those special memories every time you put them on.
Yes, yes, yes!  Bespoke bridal accessories will ALWAYS be unique to you.  This is absolutely one way to ensure that no bride will have gone before you wearing the same.  No two bespoke bridal accessories that are made by hand will ever be identical.  There will always be a slight variation between two pieces.  
When you purchase your bridal gown, it may be that others who have visited the same boutique have indeed fallen in love with the same wedding dress as you.  This is where you can make that bridal gown utterly unique by adding bespoke bridal accessories that by their very nature, are limited edition pieces.  
If you adore a particular headpiece, a pair of earrings or one of my shoe accessory designs, you can ask for it to be tweaked slightly, choose pearls instead where diamantes have been used or request for your accessory to be made in gold instead of silver. The possibility for your uniqueness, your individuality and your personality to ooze from the inside out, is by choosing bespoke bridal accessories. 
Let's be honest, weddings can be an expensive time.  The products/services you choose in some cases will only be relevant or last for the day itself.  When you've invested so much, how wonderful would it be if you could keep some of what you paid for? 
Well with bespoke bridal accessories, you can!  How sentimental would it be if you could wear them again?  How wonderful if you could relive the memories of one of the most special days of your life every day?  With my 'alterations' service you can absolutely have these feelings. For example, if you've had any type of headpiece made, or even a backdrop necklace, it will likely be that you wouldn't wear this after your wedding day.  Why not have me deconstruct the piece and re-create it into a beautiful necklace, a pair of earrings or bracelet?  You can wear these time after time, along with a heartfelt smile too, knowing that you wore all the elements on your wedding day.  A new piece of jewellery that can be treasured forever and passed down through the generations as an heirloom.
So, if you needed any more reasons as to why you should choose bespoke bridal accessories, then why not get in touch with me. 
I'm intensely passionate about working intimately with my brides to design and create exquisite bridal accessories that work in harmony with the rest of your bridal look, ensuring you look and feel the absolute ultimate version of you on your wedding day.
Rachel xx